Cycling improves your health, is kind to your wallet and the environment, and is an excellent way to take in the city
Cycling has become an increasingly popular and efficient way to experience a city's beauty while also being a green mode of transport that helps us reduce our greenhouse gas emissions.
Accordingly, numerous cities around the world are embracing this alternate method of travel, highlighting its positive effect on both our personal health and that of our planet. Amsterdam and Copenhagen have both championed the use of bikes to get around for decades now and many other cities have followed suit. In this article, we aim to highlight 11 bike-friendly cities apart from Amsterdam and Copenhagen.
Berlin, Germany
Berlin has an incredibly rich history, with an array of art and culture peppered throughout the sprawling city. To experience everything it has to offer, getting around by bike has become increasingly desirable for tourists – for example, you can pedal from Brandenburg Gate to Mauer Park in just 16 minutes, 6 minutes faster than taking the metro. Berlin is also committed to building 100km (62 miles) of cycle 'superhighways' by 2025, further cementing its reputation as a bike-friendly city.
Before you go, use our Berlin travel guide to plan your trip.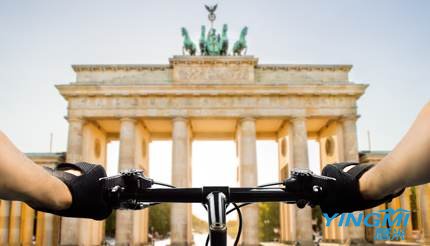 Brandenburg Gate, Berlin, Germany
Nantes, France
While Strasbourg may be considered by some to be France's most bicycle-friendly city, Nantes has fast become a prominent challenger for the title. At present, bikes only contribute to about 6% of all traffic, the city is aiming for a modest 12% by 2030 with large investment being made to comfortably meet this target. The metropolitan region features nearly 470 km (292 miles) of bike paths, with a number taking you parallel to the gorgeous River Loire that runs through the city. Nantes is also the birthplace of Jules Verne, author of 'Around the World in Eighty Days', and so here you will find the Jules Verne Museum. To rent a bike, you can get one from the Nantes Métropole at one of their eight locations across the city.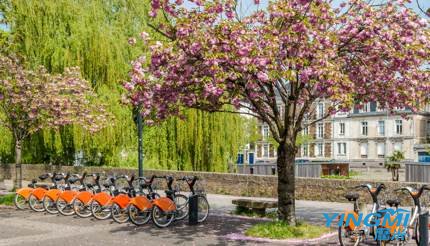 Nantes in France is bike-friendly
Ljubljana, Slovenia
The capital of Slovenia, Ljubljana, is a compact city criss-crossed with over 230km (143 miles) of bicycle lanes – and there are plans to introduce more bike lanes. The city's self-service rental system, Bicikelj, has 40 docking stations and stands dotted around Ljubljana and its suburbs, making it easy for tourists to hire and return. To make it even more enticing for tourists to get on two wheels, Ljubljana Tourism runs guided cycling tours – one of the routes is themed around three moustachioed men, an architect, a writer and a painter, all of whom have left their mark on Ljubljana.
Ljubljana is a lovely city, and our Ljubljana city guide is packed with useful information to help you get around.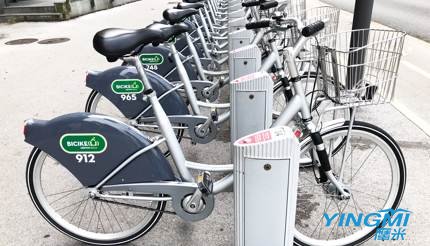 Bicikelj is the bike-share system in Ljubljana, Slovenia
Malmö, Sweden
Malmö is Sweden's most bike-friendly city with one-in-four trips taken by bike. This coastal town features predominantly flat terrain, making it a pleasure to navigate via bicycle around Malmo and the neighbouring areas such as Lomma and the scenic nature reserve known as Habo Ljung. In Malmo itself you'll find an impressive 500km (311 miles) of bike lanes and there's even a bike ferry to Copenhagen, making this an amazing opportunity to see both these bike-loving cities in no time at all.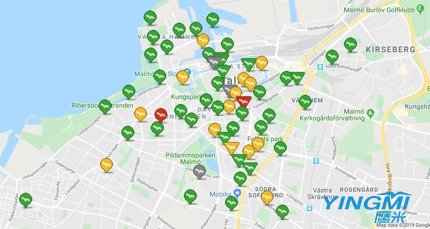 The bike-share scheme in Malmö has a real-time map showing bike availability.
Seville, Spain
The beautiful Andalusian city of Seville sizzles in summer with temperatures regularly hitting 36°C (97°F) in July and August respectively – while these two months maybe a little too hot for some cyclists looking to journey around the city, other months boast milder weather that allows locals and tourists to grace the roads of Seville in two wheels comfortably. These are about 120km (75 miles) of segregated bike lanes in Seville, and the city centre even has boulevards exclusively for bicycles, trams and taxies. Sevici is the city's bike hire scheme with 2,500 bikes available from 250 points across the municipality. Apart from Sevici, there are also many other bike-hire companies offering bike rental at affordable prices.
Before you go, see our Seville travel guide.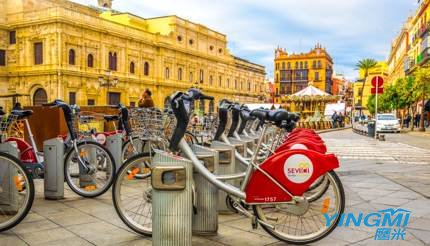 Sevici bikes in Seville, Spain
London, UK
Londoners are passionate about cycling, having in recent years successfully campaigned for significant improvements in cycling infrastructure. The integration of smooth bike lanes and modern routes is seamless, allowing for maximum coverage of London's iconic architectural wonders, gliding through the nation's history but with more than enough room to ride off the beaten track and on to new discoveries. Hop on your Santander Cycle, a self-service cycle hire scheme run by Transport For London, and start your adventure.
Before you go, make use of our London travel guide to find all the cool places in London.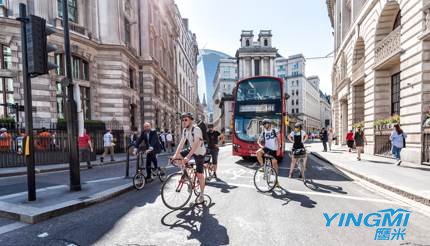 Cyclists in London, England
Utrecht, Netherlands
Amsterdam may be the exemplary bike-friendly city of the modern world, but Utrecht's 125,000 daily cyclists may aim to change that. Utrecht is home to the largest bike parking garage in the world, which is able to hold up to 12,500 bikes at once, and this is set to be doubled by 2020. There's even a traffic system named 'Flo' that tells cyclists if they should speed up or slow down when approaching a green light. Before setting off, visit a tourist information office or go online for a map – the Vechtstreek and the Ulrechtse Heuvelrug National Park cycling routes are highly recommended.
Buenos Aires, Argentina
The coastal city of Buenos Aires sits on flat lands where the Rio de la Plata empties into the Atlantic Ocean. As the city is vast (it has 48 districts called barrios) yet devoid of elevation, getting around Buenos Aires by bikes is a breeze. The city's cycling network includes more than 230km (143 miles) of bike lanes, as well as the EcoBici scheme providing free bikes for up to an hour per trip from 396 bike stations across the city. You'll even find cycling tours that will guide you through many of the city's most enticing sights. While cycling is an efficient way of seeing the city, it pays to know the different road signs and keep a watchful eye on other road users.
Before you go, check out our Buenos Aires travel guide.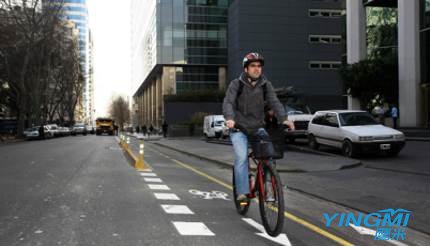 Buenos Aires has more than 230km (143 miles) of bike lanes
Montreal, Canada
Canada's largest French-speaking city has a heady mix of old-world charm and modern sophistication, and it is also one of Canada's bike-friendly cities, establishing protected bike lanes as far back as the 1980s. BIXI is the city's bike-sharing system with 7,430 bikes and 611 stations in Montreal and its suburbs, providing residents and tourists easy access to bicycles from every April 15 to November 15. Keen cyclists can make their visit coincide with the Tour de L'lle, an annual bike ride where cyclists take to the streets on bikes for a day without any other vehicles being allowed on the roads.
Before you go, check out our Montreal travel guide.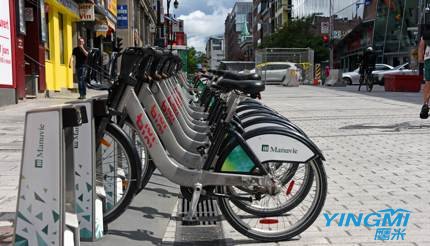 BIXI bikes in Montreal, Canada
Portland, Oregon, USA
Portland, the largest city in Oregon, is hip and quirky. It is also a progressive city that invests time and resources on promoting eco-friendly projects. While the cycling rate in Portland is about 7%, relatively low in comparison to major European cities, Portland deserves a shout-out as it is far more bike-friendly than other US cities. The city's bike-sharing scheme, Biketown, has 1,000 bikes available at 100 stations across downtown and several neighbourhoods. The scheme is highly affordable too – with rates from US$0.08 per minute, tourists can pedal around its eccentric downtown and even ride across the Tilikum bridge, the largest car-free bridge in the USA.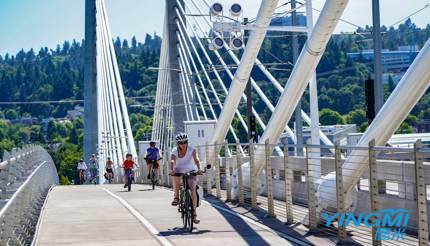 Tilikum bridge, the largest car-free bridge in the USA
Tokyo, Japan
In Japan, Kyoto is often considered Japan's most bike-friendly city, but Tokyo is making plenty of progress to that end ahead of the 2020 Summer Olympics. In fact, Yuriko Koike, the Governor of Tokyo, has indicated that she wants to establish bicycles as the primary form of transport around the densely populated city and metropolitan area that nearly 40 million people call home. About 4 million of Tokyo's 20 million city commuters now travel by bicycle to their local subway or train stations – an impressive number that certainly reaffirms its reputation. A popular route for tourists is to follow the Kanda River – starting from Ryogoku, you cycle through Akihabara, Shinjuku and Suginami, before ending at the beautiful Inokashira Park.
Playing host to the 2019 Rugby World Cup and the 2020 Summer Olympics, Tokyo is in the media spotlight. Before making a trip there, use our Tokyo travel guide to plan.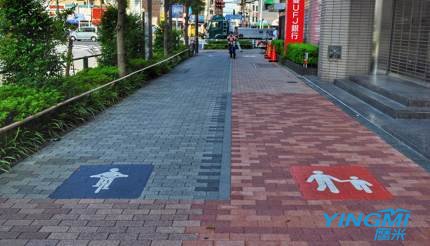 Bicycle and pedestrian lanes in Tokyo, Japan