First of all, we need to determine the purpose of the interpreter (users and access), the budget.From the perspective of two consumer groups, one is similar to a travel agency, whose purpose is to let the tourists listen to the guide's explanation, which has almost no requirements for audio guide device, which can meet the basic requirements of sound transmission, and it is good to buy cheap.The other is: government and enterprise users, government and enterprise users are required to have clear voice, no interference in the use process, stable communication, comfortable to wear, clean and sanitary equipment, long battery life, support conference microphone explanation, good after-sales service, moderate price.The interpreter required by the government and enterprises can only be met by the 2.4g transmission channel. The 2.4g scheme has the advantages of strong anti-interference, stable transmission, good sound quality, built-in antenna, integrated design, comfortable wearing and so on.
Hefei Humantek Co.,Ltd. is a leading manufacturer of audio guide device in China, established in 2007.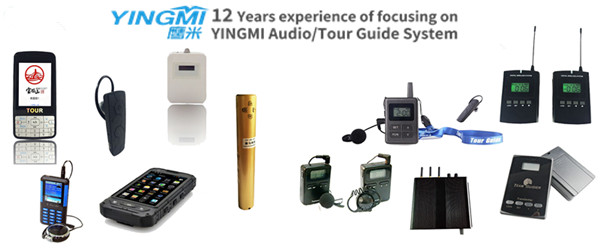 Our products can be widely used in Scenic spot, museums, companies , factories, government agencies and technology center. The audio guide device passed ISO9001:2000 ,CE and Rohs .
The team audio guide device is suitable for the group travel, company visit.
The speaker can speak by transmitter , the visitor can listen can receiver. It providing high-quality tour services, it overcomes the noise pollution and confusion caused by the previous use of loudspeakers and visits a clear, quiet and comfortable environment.

Yingmi audio guide device , Make The Audio More Wonderful. Welcome to visit our company.